Pycnogenol is an extract that is obtained from French Maritime Pine (Pinus Pinaster) through a water and alcohol process. It is then dried and used as a nutritional supplement.  While it has been cited to have a variety of health benefits such as the lowering of blood pressure and heart health, it is also known in many circles as being beneficial for persons suffering from diabetes mellitus.
Diabetes mellitus reportedly affects over One Hundred (100) million people globally (WHO.int) and is considered a major cause of kidney failure, stroke, heart attack, the amputation of one's limb and even blindness (WHO.int).  So, could pycnogenol be an alternative natural way of treating or managing this ill-health phenomenon?  Let's discuss!
The Discussion
According to the International Diabetes Foundation (IDF), over five hundred and thirty-seven (537) million adults are currently living with Diabetes.  This figure constitutes adults between the ages of twenty (20) to seventy-nine (79) years (idf.org).  If this was not alarming enough, well, the numbers are projected to increase to six hundred and forty-three (643) million people by the year 2030 and even higher as the years progresses.  Jamaica, a developing nation, reportedly have over two hundred thirty-six thousand two hundred (236, 200) persons suffering from this disease. This number constitutes Jamaicans as young as fifteen (15) years old (Ministry of Health and Wellness, Jamaica, 2020).  The report also indicated that more women than men suffer from the disease.
The majority of people with diabetes are said to live in low to middle-income countries with many persons not even being aware that they are living with the condition.  This number is a staggering two hundred and forty (240) million according to the International Diabetes Foundation (idf.org).  The statistics are also profound as it relates to children and adolescents who are living with the disease, particularly type 1 diabetes (idf.org).  Type-1 diabetes is diagnosed when an individual requires the daily administration of insulin, due to the body's inability to produce enough on a daily basis (Word Health Organization International, 2022).
While there are many available treatments or therapies in place for the management of diabetes, researchers are constantly investigating natural ways in which to treat, manage or even prevent the occurrence of the disease, it remains a global concern.  Research has shown that a healthy diet plays a key role when it comes to fighting this disease. Therefore, natural compounds such as pycnogenol have been found to be of particular interest. Not only because it is natural, but due to its purported positive effects on persons suffering from diabetes.
Pycnogenol is the natural extract of the French Maritime Pine (Pinus Pinaster) and the brand name of the standardized extract.  The Maritime Pine is said to grow along the southwest coast of France and reportedly contains bioactive compounds such as procyanidins (flavonoids), bioflavonoids and organic acids which have many purported health benefits (Iravani and Zolfaghari, 2011; Encyclopedia.com). Pycnogenol is also said to exert antioxidative, anti-inflammatory and chondroprotective effects in, in vitro as well as in vivo experiments (Rohdewald, 2017).  Additionally, its phenolic acid and catechins are easily absorbed by the body (Rohdewald, 2017).
In this article, we will be exploring how pycnogenol can benefit persons who are suffering from diabetes mellitus in general as well as one of its major complications, diabetes retinopathy, which can lead to blindness.  We will also explore the potential side effects of adding this supplement to your diet.
You can read more on pine bark extract and pycnogenol in this detailed article:
Pycnogenol Diabetes Benefits:
Diabetes Mellitus in General.
Diabetes Retinopathy (a complication).
Pycnogenol and Diabetes Mellitus
Research has shown that pycnogenol may be beneficial to those with diabetes mellitus.  This was observed in a study by Liu et al (2003).  In this double-blind placebo-controlled randomized study with seventy-seven (77) patients with Type-2 diabetes.  The patients were supplemented with one hundred (100) mg of pycnogenol for twelve (12) weeks.  Along with pycnogenol, the patients also continued with standard diabetes treatment.  The results of the study showed that plasma glucose levels were lowered as compared to the placebo.  However, this change was only of statistical significance in the first month. 
Additionally, patients who were taking the pycnogenol also experienced a reduction in endothelin-1 when compared to the placebo group. Nonetheless, the differences experienced were not of statistical significance.  Endothelin-1 is a vasoconstrictor peptide that is primarily secreted by endothelial cells.  It causes fibrosis of the vascular cells and helps to stimulate the production of reactive oxygen species (Kowalczyk, et al. (2015). Overall, endothelin-1 helps to regulate our blood pressure (clevelandclinic.org).
Importantly, the pycnogenol was reportedly well tolerated. However, both groups (pycnogenol and placebo) experienced mild and temporary side effects. Overall, the study showed that the supplementation of pycnogenol, as opposed to traditional diabetes treatment, was able to lower glucose levels of diabetes patients as well as improve endothelial function which is critical for persons suffering from diabetes.  One of the ways in which pycnogenol help manage glucose levels is by slowing down the absorption of carbohydrates, which then reduces the glucose load in the bloodstream (Nocun et al. 2007).
The effects of pycnogenol on diabetes patients were also observed in a study by (Zibadia et al. 2008), where pycnogenol in addition to both diabetes and hypertensive medications was shown to improve blood sugar and cardiovascular risk factors as well as cause patients to reduce their anti-hypertensive medication.  Further, a study by Nocun and colleagues showed that pycnogenol was able to lower platelet hyperactivity in diabetic patients in the long term (Nocun et al. 2007).  It was also shown to have an antithrombotic effect when it is taken alone or as a supplement for anti-platelet therapy for persons suffering from type-1 diabetes (Nocun et al. 2007).
Pycnogenol and Diabetes Retinopathy
Diabetes mellitus is an endocrine disorder that can have several life-threatening complications including elevated cholesterol levels – low-density lipoprotein (LDL) along with the damaging of the retina of the eyes or what is called diabetic retinopathy.  Diabetes retinopathy is a serious complication of diabetes that is caused by high blood sugar levels which then damage the back of the eye (retina) (diabetes.co.uk; sciencedirect.com).  When this happens, the diabetic patient can experience blindness, if it is not diagnosed timely and treated. 
Research has shown that pycnogenol alone or a combination with other antioxidants such as beta-carotene and a-lipoic acid may be able to increase retinal glutathione peroxidase as well as glutathione reductase activities.  As such, the researchers purport that it could be used as an effective antioxidant for diabetic retinopathy as well as oxidative stress (Berryman et al. 2004; Kamuren et al. 2006). It must be noted that this study was conducted on diabetic animals. As such, different results may be obtained for human studies.
Researchers also contend that pycnogenol may be able to increase the effects of other antioxidants such as coenzyme Q10.  This combination could be an effective mechanism to protect the retina of the eyes from the damage that could occur due to oxidative stress as well as free radicals (Ueda et al 1996).  Pycnogenol was also observed to reduce leakages into the retina as well as improve capillary resistance (Schönlau and Rohdewald, 2001).  The researchers further reported that treatments using pycnogenol were found to be favourable for most of the patients who were suffering from diabetic retinopathy.
Are there any side effects of pycnogenol supplementation?
Reports have shown no serious complications from using pycnogenol.  Nonetheless, some minor side effects have been noted such as gastrointestinal discomfort, nausea, headache, dizziness etc. (Rakel, 2018). As such, precautions must be taken when being used as it is not meant to replace proper medical supervision.  As such, before supplementation, it is recommended that you consult with your doctor or healthcare provider, especially if you are on medications to reduce blood sugar or blood pressure (Encyclopedia.com). 
It is also recommended that pycnogenol be taken with or after a meal due to its astringent aftertaste.  Additionally, those that are on blood thinners should remain cautious where this supplement is concerned, as it has been shown to have the potential of inhibiting platelet activity (Kapalka, 2010).
 How to add Pycnogenol to your diet!
Pycnogenol is usually available in capsule forms if being considered as part of a supplementation regimen.  You can also find it in creams and lotions.  However, the effects of products such as creams and lotions are still yet to be studied (Kapalka, 2010).  The typical dosage for pycnogenol ranges from 25- 200 mg/day (Kapalka, 2010).  However, the dosage you undertake should be one that is made with the consultation of your healthcare provider.
You can read more on how to get this nutritional compound in your diet by reading this in-depth post on Pine Bark extract from which pycnogenol originated.
 Illustrative Summary
Here is an illustrative summary of the effects of Pycnogenol and Diabetes Mellitus as well as Diabetes Retinopathy (a complication).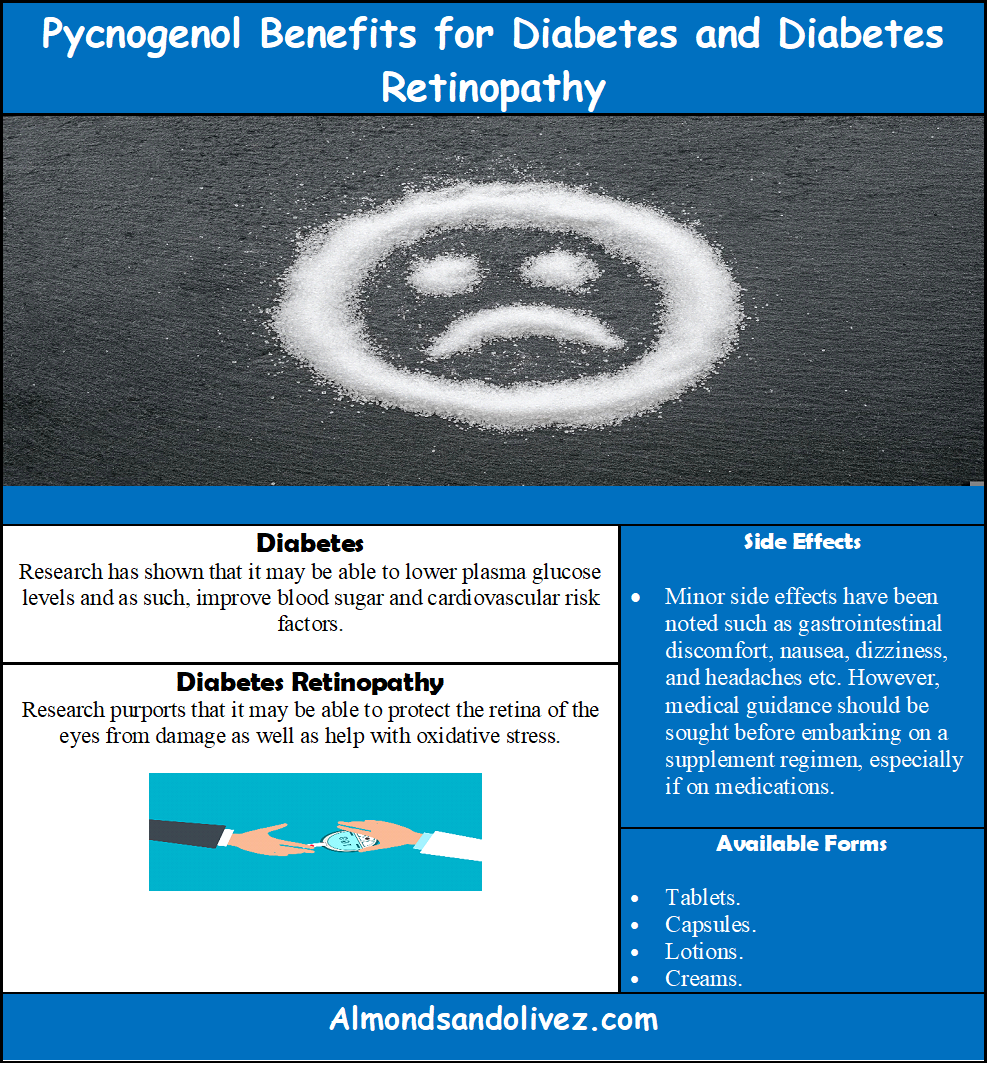 Let's Sum Up!
Pycnogenol is a dietary antioxidant that originates from the French Maritime Pine.  It is said to have many purported health benefits, one being its anti-diabetic effects on the body.  Several studies have shown that it may be able to lower blood plasma as well as improve eye health, which is often a complication of persons suffering from diabetes.
However, like with so many natural ingredients, caution must be taken when consuming this compound. Therefore, it is recommended that you consult with your healthcare provider before supplementation. Nonetheless, as the research continues to investigate its overall health benefits, it does bring hope that scientists are still pursuing natural ways to fight this global phenomenon – diabetes mellitus.
So, have you ever heard of pycnogenol before? Or are you one of those health-savvy individuals that have tried it before? If so, Share it nuh!
You can read more on some additional nutritional powerhouses that can be beneficial for persons suffering from diabetes in the articles below:
References
Berryman AM, Maritim AC, Sanders RA, Watkins JB. Influence of treatment of diabetic rats with combinations of Pycnogenol®, beta-carotene, and alpha-lipoic acid on parameters of oxidative stress. J Biochem Mol Toxicol. 2004;18:345–352. [PubMed: 15674846].
Iravani S, Zolfaghari B. Pharmaceutical and nutraceutical effects of Pinus pinasterbark extract. Res Pharm Sci. 2011;6:1–11. [PMC free article] [PubMed] [Google Scholar].
Kamuren ZT, McPeek CG, Sanders RA, Watkins JB. Effects of low-carbohydrate diet and Pycnogenol® treatment on retinal antioxidant enzymes in normal and diabetic rats. J Ocul Pharmacol Ther. 2006;22:10–18. [PubMed: 16503770].
Kapalka, George. (2010). Chapter 5. ADHD. 10.1016/B978-0-12-374927-7.00005-4.
Kowalczyk A, Kleniewska P, Kolodziejczyk M, Skibska B, Goraca A. The role of endothelin-1 and endothelin receptor antagonists in inflammatory response and sepsis. Arch Immunol Ther Exp (Warsz). 2015 Feb;63(1):41-52. doi: 10.1007/s00005-014-0310-1. Epub 2014 Oct 7. PMID: 25288367; PMCID: PMC4289534.
Liu X, Wei J, Tan F, Zhou S, Würthwein G, Rohdewald P. Antidiabetic effect of Pycnogenol French maritime pine bark extract in patients with diabetes type II. Life Sci. 2004 Oct 8;75(21):2505-13. doi: 10.1016/j.lfs.2003.10.043. PMID: 15363656.
Nocun M, Ulicna O, Muchova J, Durackova Z, Watala C. French maritime pine bark extract (Pycnogenol®) reduces thromboxane generation in blood from diabetic male rats. Biomed Pharmacother. 2007; 62:168–172. [PubMed: 17698319].
Rakel D. (2018). Integrative medicine (Fourth). Elsevier. Retrieved September 18, 2022, from https://www.sciencedirect.com/science/book/9780323358682.
Rohdewald PJ. Review on Sustained Relief of Osteoarthritis Symptoms with a Proprietary Extract from Pine Bark, Pycnogenol. J Med Food. 2018 Jan;21(1):1-4. doi: 10.1089/jmf.2017.0015. Epub 2017 Aug 24. PMID: 28836883; PMCID: PMC5775113.
Schönlau F, Rohdewald P. Pycnogenol for diabetic retinopathy. A review. Int Ophthalmol. 2001;24(3):161-71. doi: 10.1023/a:1021160924583. PMID: 12498513.
Ueda T, Ueda T, Armstrong D. Preventive effect of natural and synthetic antioxidants on lipid peroxidation in the mammalian eye. Ophthalmic Res. 1996; 28:184–192. [PubMed: 8829176].
Zibadia S, Rohdewald PJ, Park D, Watson RR. Reduction of cardiovascular risk factors in subjects with type 2 diabetes by Pycnogenol supplementation. Nutr Res. 2008; 28:315–320. [PubMed: 19083426]