Hair growth is a stickler for most of us, myself included. Who wouldn't want to have thick, long, healthy hair? While this might be a reality for some or not a desire for others, hair growth or the lack thereof, can be a testy subject. However, hair growth will be dependent on many factors which include one's genes, diet, environment and lifestyle. Nonetheless, there are ways in which we can maintain the mane on our scalp and keep it growing. One such is the use of essential oils.
Essential oils are the potent properties of particular plants or herbs. While it might be challenging for some of us to access them all, just having a few handy that can aid in the strength, health and growth of the hair, is a worthwhile venture. As such, in this article, we will explore three (3) essential oils that you can add to your hair care regimen that can aid in your hair growth quest. Let's discuss!
The Discussion
Essential oils are called 'essential' due to the fact they described the very essence of both the odour and flavour of the plant they are derived. As such, these oils are highly volatile and potent being isolated from botanicals species (Britannica.com). Therefore, they usually bear the name of the plant from which they are derived. For example, peppermint oil is processed from the leaves of the peppermint plant and rose oil from the flower petals of the rose plant (Britannica.com).
Essential oils are the most well-characterized of the many plant species. These types of oils were first recorded as being used in ancient India, Persia and Egypt (Britannica.com). Even though they are well used today, their function still remains a mystery in some fields, hence the continuous research into their uses. Nonetheless, you will find some type of essential oils in various products or in their pure form. Some of the products you can find essential oils in include cosmetic products, soaps, perfumes, detergents and even some industrial products (Britannica.com).
Due to the potency of these oils, some of them are not recommended for internal use or without dilution. Nonetheless, due to continuous research, you can find some of these oils as flavour agents in baking products, soft drinks, meat and even pharmaceutical products (Britannica.com). As such, their use in haircare is certainly not a new concept. Essential oils have purported to have many hair care benefits including strengthening the hair, providing shine and for some, promoting hair growth.
In this article, we will be discussing three (3) must-have essential oils and the benefits of adding them to your hair care routine. The oils that will be discussed include rosemary, tea tree and peppermint. We will also discuss some of the reported side effects of using the oils so that you will be able to use them safely and reap the many purported benefits.
Three (3) 'must have' Essential Oils for Hair Thickness and Growth.
Rosemary Essential Oil
Tea Tree Essential Oil
Peppermint Essential Oil
Rosemary Essential Oil and Hair Growth
Rosemary (Rosmarinus Officinalis L) is a common perennial culinary herb that is cultivated worldwide (Habtemariam, 2016). The plant is usually used in its dried or fresh leaves form for cooking or in herbal teas, in small amounts. Additionally, rosemary extract is used as an antioxidant to extend the shelf life of perishable commodities (Habtemariam, 2016).
Apart from the essential oil being used in cosmetics, particularly in hair products, the plant is highly touted and used in medicinal practices due to its denoted benefits which include being anti-diuretic, (K. G. E.-D. Abdel-Wahhab, et. al 2011), anti-inflammatory (M. E. Gonz'alez-Trujano et. al. 2007; M. Est'evez, R. Ram'ırez et. al. 2007), anti-oxidant (T. Bakirel, U. Bakirel et. al. 2008; P.-F. Laura et. al. 2009) as well as improving cognitive functions (D. Kennedy and Scholey, 2006) among other benefits.
In haircare, rosemary has been purported to help in the promotion of hair growth, especially the leaf extract. This was observed in a study by Murata et al. (2012). In this study that was conducted on mice, it was found that a 2mg/day of the leaf extract was able to improve hair growth. The study found that rosemary was able to inhibit the activity of testosterone, which is usually a hair regrowth strategy. As such, the researchers contend that rosemary extract is a promising treatment for hair growth.
Another study, which focused on rosemary's impact on patients suffering from alopecia areata. This randomized double-blind controlled study was conducted by Hay et. a. (1998) with 86 patients. In contrast to the previous study, this one used a mixture of essential oil, including rosemary. As such, thyme, lavender and cedarwood were used in a carrier oil of jojoba and grapeseed. The study revealed that Nineteen (19) or Forty-four (44%) per cent of the Forty-three (43) patients that used this mixture experienced an improvement in hair growth in comparison to only six (6) or fifteen (15%) per cent of Forty-one (41) patients in the control group. It must be noted, that the study was conducted over a seven (7) month period with follow-ups every Three (3) and Seven (7) months.
One of the most famous studies of rosemary essential oil and its ability to promote hair growth was conducted in a comparative study with minoxidil, the main ingredient in Rogaine and other products geared towards male pattern baldness. This study which was conducted by Panahi et al. (2015) administered to patients either rosemary oil or a Two (2%) per cent minoxidil for a duration of six (6) months. However, at the Three (3) month check-in, no significant changes in hair count were observed in both groups.
At the Sixth (6th) month mark, a significant increase in hair count was observed in both groups, with a notable degree of scalp itching observed only in the minoxidil group. As such, the researchers denoted that rosemary oil was equally effective as minoxidil in hair regrowth, especially in persons suffering from androgenetic alopecia, which was the aim of the study.
Tea tree oil and Hair Growth
Healthy hair starts from the scalp. As such, products that help to cleanse or stimulate the scalp will usually help in the promotion of hair growth, tea tree oil is one such oil. According to research, tea tree oil has been used for many years as a part of medicinal products, particularly for the treatment of cutaneous infections due to its anti-microbial and anti-inflammatory properties (Chan et. al. 2000).
Tea tree (Melaleuca alternifolia) oil is obtained through the process of the steamed distillation process of the tea tree plant (Kinjuit et.al. 2019). The oil is said to be originated in Australia (Hammer K A, et. al. 2004). Its chemical composition is purported to be over One Hundred (100) components such as alcohols like monoterpenes and sesquiterpenes. However, Terpinen-4-ol, is its major component. (Carson et. al. 2006). As such, it is regarded as its main anti-microbial properties (Carson et. al. 2006). Terpinen-4-ol is the naturally occurring compound that is found in tea tree oil. This component is said to possess both anti-inflammatory and antioxidant properties (Shapira et. al. 2016).
Tea tree oil is typically used to cleanse the scalp or as a hair treatment that has to do with the removal of dandruff. This was observed in a study by Satchell et al. (2002), where Five (5%) per cent of tea tree oil was added to shampoos for dandruff removal. The results showed that the shampoo group experienced Four (4%) per cent improvement in dandruff in comparison with One (1%) in the placebo group. Over, One Hundred and Twenty-six (126) patients participated in the study ranging in years from Fourteen (14) years and older.
Peppermint oil and Hair Growth
Peppermint (Mentha Piperita) is a plant that is said to be originated in Europe but has been used worldwide as both a carminative and gastric stimulant (Oh JY et. al. 2014). Nonetheless, it is usually used in hair growth formulations to help with growth and thickness. However, only a few of those products are said to be assessed scientifically (Messenger et. al. 2004). The primary ingredient in peppermint oil is menthol, as such, this component is responsible for its many purported benefits (Hills, and Aaronson,1991).
In in vitro studies, peppermint was shown to have anti-inflammatory, anti-microbial and anti-fungal activities as well as being a potent anti-oxidant (Inoue et. al. 2001; Comar et. al. 2005). As it relates to hair growth, it was shown in an animal study by (Oh JY et. al. 2014) to be able to assist in the promotion of hair growth. In this study, the researchers used four (4) different topical applications, saline (SA), jojoba oil, 3% minoxidil and 3% peppermint oil diluted in jojoba oil.
The animals were divided into three (3) groups, each mixture was applied to the shaven head of the mice once a day, Six (6) days a week for four (4) weeks. The group applying the peppermint oil started experiencing remarkably hair growth from week two (2) than the saline and jojoba group. The growth was even greater in the third (3rd) week than all the other applications even the minoxidil. At the end of the Four (4) weeks, the peppermint oil group showed significant hair growth of up to Ninety-two (92%) per cent with the minoxidil being about Fifty-five (55%) per cent. No percentage growth was reported for the other two (2) applications.
To this extent, the researchers concluded that the topical application of peppermint oil induces rapid hair growth at the anagen phase in telogen mouse's skin, and thus could be used as a therapeutic or preventative alternative medicine for hair loss in humans. The anagen hair growth phase refers to the first or active stage of hair growth. Additionally, the researchers noted that the participants also experienced hair thickness as well.
Are there any side effects of using Essential oils?
Essential oils can cause side effects from mild to severe when it comes to some oils, with the most commonly reported effect, being dermatitis (Posadzki et.al. 2012). However, peppermint oil has been shown to be relatively safe when taken internally or applied topically. Nonetheless, it reportedly can cause some allergic reactions, such as skin rashes and irritation (National Center for Complementary and Integrated Health, 2020.).
Similar results were found for rosemary oil and tea tree oil which are considered generally safe. However, rosemary oil reportedly could cause vomiting when taken orally (particularly in large amounts) as well as skin irritation. Tea tree oil may cause itching when use topically as well as other skin irritation. Orally, tea tree oil may cause confusion, ataxia (which is a loss of muscle coordination) breathing issues and the more severe, a coma (National Center for Complementary and Integrated Health, 2020).
In general, one should be mindful to keep these oils away from the eyes as well as mucus membrane as this can cause burning or damage. If taking internal, stick to the recommended dosage and never try taking more than recommended. Keep it low dose at all times as these oils are potent and may cause toxic reactions in the body if taken in large doses (Tisserand and Young, 2009). Importantly, pregnant or breastfeeding women should not consume/use these oils due to insufficient studies on possible adverse reactions.
How to add Essential oils to your hair care regimen
You can add essential oils to your hair care regimen by making a mixture of the oils with your preferred carrier oils which include jojoba, grapeseed, olive oil etc. It is recommended that these oils be used with a carrier oil instead of applied directly to the scalp.
Additionally, you can add oils to shampoos, conditioners, or special DIY treatments. If you are using an oil concoction (mixture), after applying to the scalp, gentle massage and wash hair as usual and proceed with your other treatments or left on the scalp as desired.
Illustrative Summary
Here is a summary of the Three (3) 'must have' ESSENTIAL OILS for Hair growth and general care.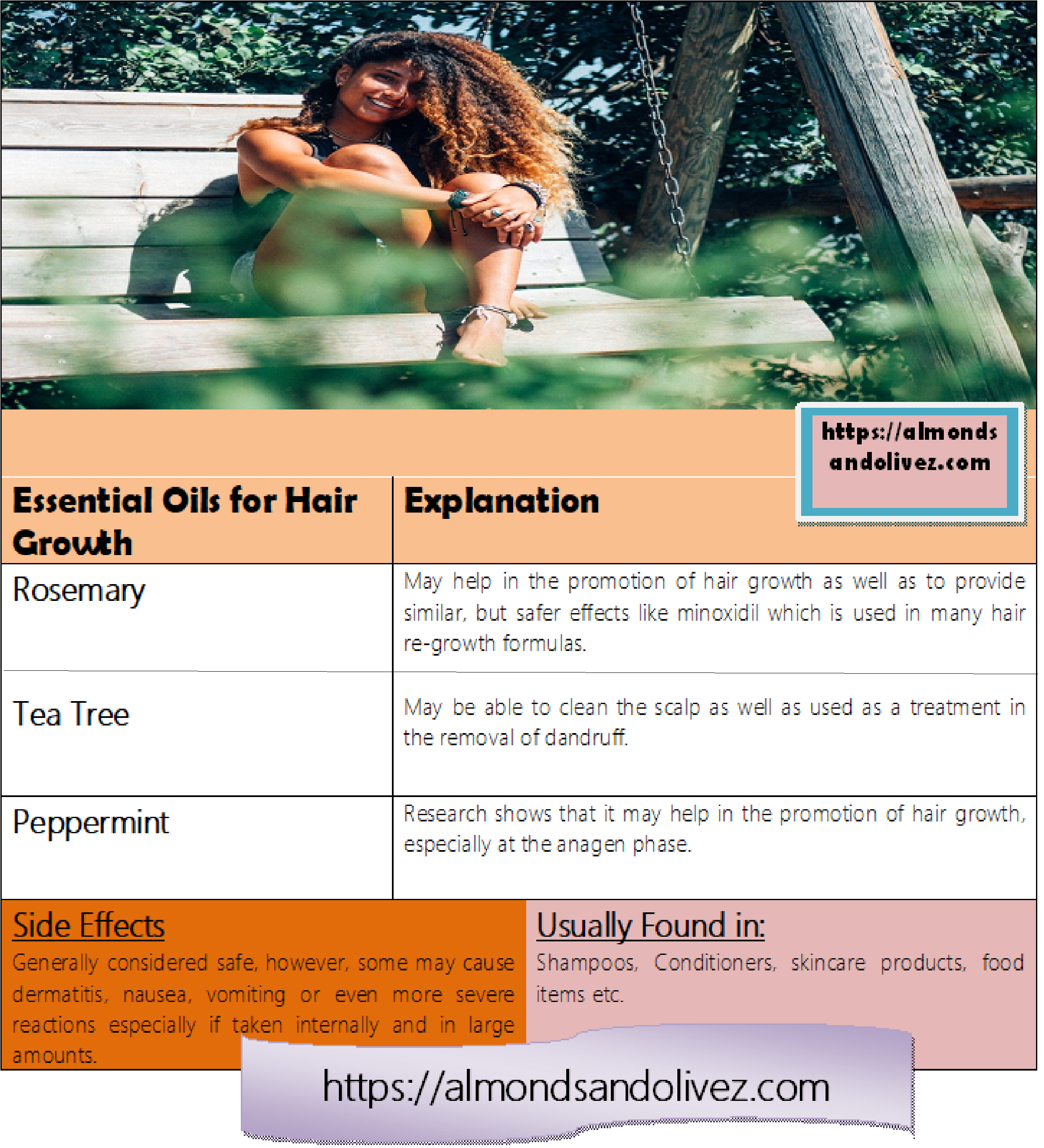 Let's Sum Up!
Essential oils can be tricky when it comes to your health and hair care needs. This is because they are unique, due to their potent essential qualities and purported health benefits. In this article, we discussed three (3) essential oils that you can add to your hair care regimen for thickness, growth and general care.
Seeing that hair growth starts from the scalp, it is always best to ensure that whichever oil you choose, ensure that it is able to cleanse or stimulate the scalp. The oils discussed in this article – rosemary oil, tea tree oil and peppermint oil are some of the ones that have been purported to help with the cleansing of the scalp as well as the promotion of hair growth and thickness. Nonetheless, be mindful to use your oils with caution and ensure that they are diluted for topical application.
So, have you ever used any of these essential oils before in your hair care routine? How was it/them? Share it with us nuh!
Seeing that these oils are usually used on the skin as well, you can check out this article to learn more about the skin, and how to take care of it.
References
Carson C F, Hammer K A and Riley T V 2006 Melaleuca alternifolia (tea tree) oil: A review of antimicrobial and other medicinal properties Clinical Microbiology Reviews 19(1) 50-62.
Comar, K.M. and Kirby, D.F. (2005) Herbal remedies in gastroenterology. J. Clin. Gastroenterol., 39, 457-468.
D.O. Kennedy and A. B. Scholey, "The psychopharmacology of European herbs with cognition-enhancing properties," Current Pharmaceutical Design, vol. 12, no. 35, pp. 4613–4623, 2006.
Habtemariam S. The Therapeutic Potential of Rosemary (Rosmarinus officinalis) Diterpenes for Alzheimer's Disease. Evid Based Complement Alternat Med. 2016;2016:2680409. doi: 10.1155/2016/2680409. Epub 2016 Jan 28. PMID: 26941822; PMCID: PMC4749867.
Hammer K A, Carson C F and Riley T V 2004 Antifungal effects of Melaleuca alternifolia (tea tree) oil and its components on Candida albicans, Candida glabrata and Saccharomyces cerevisiae Journal of Antimicrobial Chemotherapy 53(6) 1081-5.
Hay IC, Jamieson M, Ormerod AD. Randomized trial of aromatherapy. Successful treatment for alopecia areata. Arch Dermatol. 1998 Nov;134(11):1349-52. doi: 10.1001/archderm.134.11.1349. PMID: 9828867.
Hills, J.M. and Aaronson, P.I. (1991) The mechanism of action of peppermint oil on gastrointestinal smooth muscle: an analysis using patch clamp electrophysiology and isolated tissue pharmacology in rabbit and guinea pig. Gastroenterology, 101, 55-65.
Inoue, T., Sugimoto, Y., Masuda, H. and Kamei, C. (2001) Effect of peppermint (Mentha piperita L.) extracts on experimental allergic rhinitis in rats. Biol. Pharm. Bull., 24, 92-95.
Kinjuit, Henzilenah & Surugau, Noumie. (2019). Formulation and Evaluation of Hair Shampoo Containing Tea Tree (Melaleuca alternifolia) Oil and Virgin Coconut (Cocos nucifera) Oil. Journal of Physics: Conference Series. 1358. 012022. 10.1088/1742-6596/1358/1/012022.
K. G. E.-D. Abdel-Wahhab, K. A. El-Shamy, N. A. E.-Z. El-Beih, F.A.Morcy, and F. A. E. Mannaa, "Protective effect of a natural herb (Rosmarinus officinalis) against hepatotoxicity in male albino rats," Comunicata Scientiae, vol. 2, no. 1, pp. 9–17, 2011.
May J, Chan C H, King A, Williams L and French G L 2000 Time–kill studies of tea tree oils on clinical isolates Journal of Antimicrobial Chemotherapy 45(5) 639-643.
Messenger, A.G. and Rundegren, J. (2004) Minoxidil: mechanisms of action on hair growth. Br. J. Dermatol., 150, 186-194.
M.E. Gonz'alez-Trujano, E. I. Pe˜na, A. L. Mart'ınez et al., "Evaluation of the antinociceptive effect of Rosmarinus officinalis L. using three different experimental models in rodents," Journal of Ethnopharmacology, vol. 111, no. 3, pp. 476–482, 2007.
M. Est'evez, R. Ram'ırez, S. Ventanas, and R. Cava, "Sage and rosemary essential oils versus BHT for the inhibition of lipid oxidative reactions in liver pˆat'e," LWT—Food Science and Technology, vol. 40, no. 1, pp. 58–65, 2007.
Murata K, Noguchi K, Kondo M, Onishi M, Watanabe N, Okamura K, Matsuda H. Promotion of hair growth by Rosmarinus officinalis leaf extract. Phytother Res. 2013 Feb;27(2):212-7. doi: 10.1002/ptr.4712. Epub 2012 Apr 20. PMID: 22517595.
National Center for Complementary and Integrated Health, 2020, accessed, 19 March 2022 from https://www.nccih.nih.gov/health/peppermint-oil.
National Center for Complementary and Integrated Health, 2020, accessed, 19 March 2022 from https://www.nccih.nih.gov/health/tea-tree-oil.
Oh JY, Park MA, Kim YC. Peppermint Oil Promotes Hair Growth without Toxic Signs. Toxicol Res. 2014 Dec;30(4):297-304. doi: 10.5487/TR.2014.30.4.297. PMID: 25584150; PMCID: PMC4289931.
Panahi Y, Taghizadeh M, Marzony ET, Sahebkar A. Rosemary oil vs minoxidil 2% for the treatment of androgenetic alopecia: a randomized comparative trial. Skinmed. 2015 Jan-Feb;13(1):15-21. PMID: 25842469.
Posadzki P, Alotaibi A, Ernst E. Adverse effects of aromatherapy: a systematic review of case reports and case series. Int J Risk Saf Med. 2012 Jan 1;24(3):147-61. doi: 10.3233/JRS-2012-0568. PMID: 22936057.
P.-F. Laura, M. T. Garz'on, and M. Vicente, "Relationship between the antioxidant capacity and effect of rosemary (Rosmarinus officinalis L.) polyphenols on membrane phospholipid order," Journal of Agricultural and Food Chemistry, vol. 58, no. 1, pp. 161–171, 2010.
Satchell AC, et al. Treatment of dandruff with 5% tea tree oil shampoo. J Am Acad Dermatol. December 2002;47:852–5.
Shapira S, Pleban S, Kazanov D, Tirosh P, Arber N (2016) Terpinen-4-ol: A Novel and Promising Therapeutic Agent for Human Gastrointestinal Cancers. PLoS ONE 11(6): e0156540. https://doi.org/10.1371/journal.pone.0156540.
T. Bakirel, U. Bakirel, O. ‥ U. Keles﹐, S. G. ‥U lgen, and H. Yardibi, "In vivo assessment of antidiabetic and antioxidant activities of rosemary (Rosmarinus officinalis) in alloxan-diabetic rabbits," Journal of Ethnopharmacology, vol. 116, no. 1, pp. 64–73, 2008.
Tisserand R, Young R. Essential Oil Safety, A Guide for Health Care Professionals. 2nd ed. London: Churchill Livingstone; 2014. 780 p. DOI: 10.1016/C2009-0-52351-3. 114, 535- 542.